QX550 is a open deck motorboat. Perfect for both recreational swimming and extreme water sports. Also very convenient for fishing expeditions.
Despite its compact sizes, it offers an unusually large space on board, giving you a feeling of comfort during use. It is able to accommodate a 6-person crew. The layout of the deck is well thought out, thanks to the installation of one seat at the control console and leaving a large space around the central control cockpit you can easily move around the entire deck. In addition, the boat is equipped with a very comfortable rear bench seat and capacious lockers at the stern and under the console that will accommodate all necessary luggage.
An innovation with such small boat size is the fold-out sun deck, which creates a spacious sunbathing area.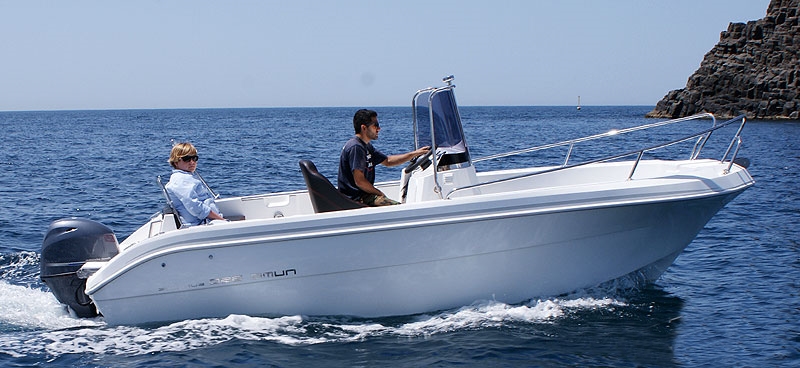 PILOT SEAT
captain's chair, ECO MARINA or SILVERTEX upholstery, per customer's design
BIMINI SUNSHADE
made of UV-resistant material – SUNBRELLA or MASACRIL frame made of tubes, dimensions 22×1.5 mm or 25×1.5 mm or 25×1.5 mm, ASI 316 steel
HULL COLOR
white RAL 9010 as a standard, at customer's request both the side or the entire hull can be made in any RAL colour
SILVERTEX UPHOLSTERY
synthetic fabric with unusual weave, available in 14 colours.
TABLE
possible options of circular, oval or rectangular table with adjustable leg and cup holders
FUEL LINE
fuel tank of 83 to 130 litres, made of plastic, fuel tank filler lockable with INOX key, venting, fuel level sensor, fuel level clock
ELECTRICAL INSTALLATION
battery compartment, main switch, 2×4 switch panels, USB socket panel deck LED lighting – white or blue dot light, top lighting, navigation lighting
FRESH WATER INSTALLATION
plastic water tank of 60 or 100 litres, inox water filler, pump with pressure switch shower headset with 5-metre hose. Level indicator, level sensor.
PORT COVER
cover made of MASACRIL fabric in black, fastened with INOX fasteners.
DECK IN TEAK
it is made out of foam which can be used as a material for whole deck or a choosen parts of deck. It immitate wooden floor and is made from resistant polyethylene. It improves safety, comfort and provide better protection of the boat from damages.